Uber Eats and other giants going big in autonomous food deliveries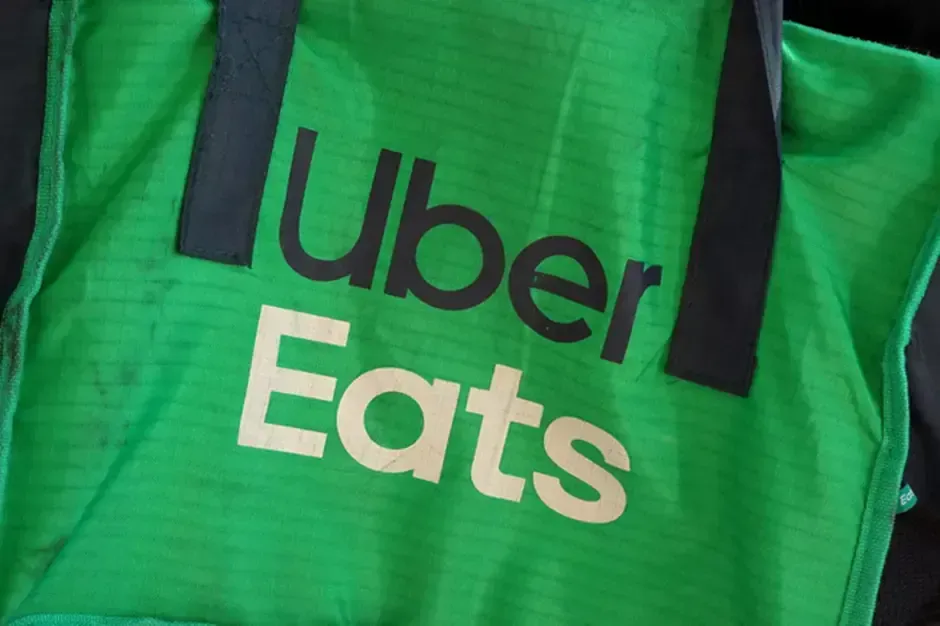 Uber is the latest company to try delivering food to people's homes with robots. The company, which has long claimed that automation is key to its future profitability, is now testing autonomous food delivery in the Los Angeles area, including robots that roll on sidewalks for short trips as well as self-driving cars for longer distances.
Uber is collaborating with two companies to make this rollout happen: Motional, an autonomous vehicle company, and Serve Robotics, an autonomous sidewalk delivery company.
Uber Eats customers will be given the option to have their meals delivered by one of the robots, rather than a traditional human delivery. Customers will receive instructions in the Uber app for how to retrieve their food from inside the robot. The Serve robot resembles a colorful cooler on wheels, with a lid that flips open to reveal a delivery inside. The robot, which will operate in West Hollywood, has headlights that resemble eyes, making it look like something out of a cartoon.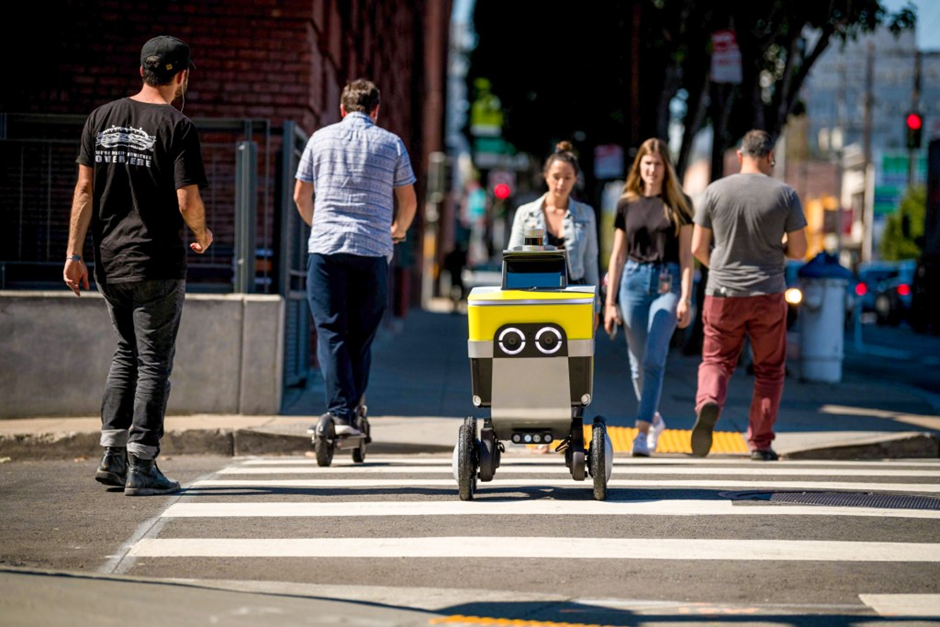 Img: Serve Robotics tests autonomous deliveries for Uber Eats in West Hollywood
Hyundai Ioniq 5 sedans with self-driving technology from the company Motional will handle larger orders in Santa Monica, California. The partnership was originally announced in December 2021. This marks the first time the ride-hailing giant is partnering with AV fleet providers, having previously acquired a 26% stake in another self-driving tech company, Aurora as well as the first time Motional is trying its hand at autonomous delivery. Motional is one of the longest-tenured teams in autonomous driving.
When previously named nuTonomy, it introduced a limited robotaxi service in Singapore in 2016, and the company began to test autonomous rides with Lyft in Las Vegas in 2018. Motional is owned by Hyundai and the automotive tech supplier Aptiv. Motional says it has spent a number of months studying every touch point between the restaurants and end customers and also conducted extensive testing.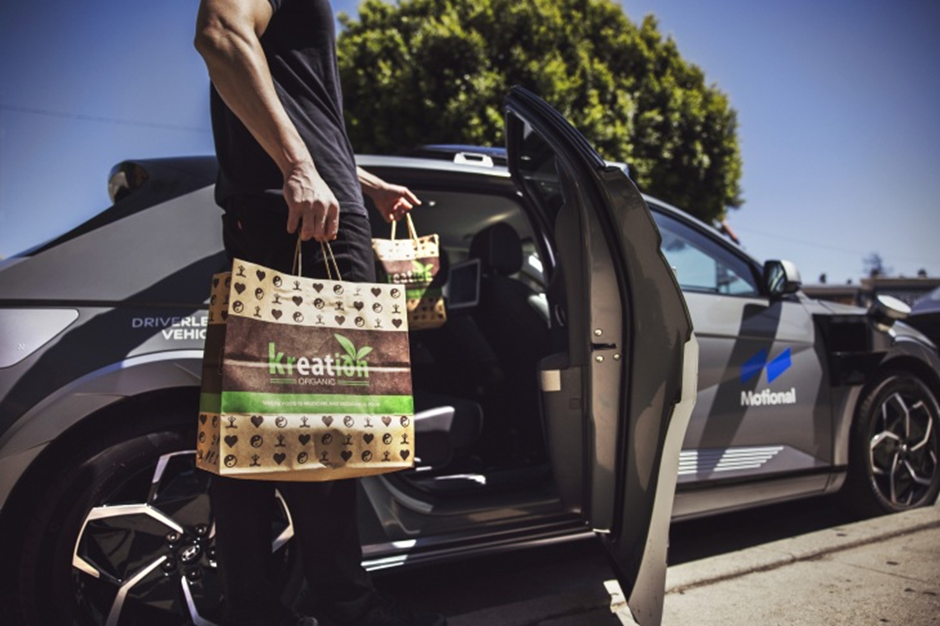 Img: Motional Autonomous Vehicle for Delivery
Orders delivered via the Hyundai sedan will be stored in a thermal container in the back seat, where the customer will retrieve them. Motional will have a human test driver behind the wheel as a safety precaution. Serve Robotics, which operates Uber's sidewalk robots, will rely on a remote human operator to supervise deliveries who will take over in certain use cases, like crossing the street, Uber said.
"We want to make Uber the best platform for all AV technology partners—to leverage the power and scale of Uber's platform to bring safe, reliable autonomous technology to consumers around the world. These unique pilots are among our first steps to integrate autonomous technologies into Uber's strategy to be the one global platform to help you go anywhere and get anything," an Uber Eats spokesperson said.
Serve Robotics is actually an Uber-adjacent startup. After Uber acquired Postmates in 2020, it repurposed the latter's robotics division into a full-fledged startup called Serve Robotics.
Serve's four-wheeled rovers have Level 4 autonomy, which means they can operate on their own for extended periods without human intervention. But it's notable that Uber isn't working with Aurora on this, given their shared history. Uber previously developed self-driving vehicles internally but Aurora acquired Uber ATG, Uber's self-driving arm, in 2020 and under the terms of the deal, Uber invested $400 million in the company, giving it a 26% stake.
The companies are working together on robotaxis. Uber said that the company is looking at partnering with more than one player in the space, and that the public might start to see more partnerships in the future.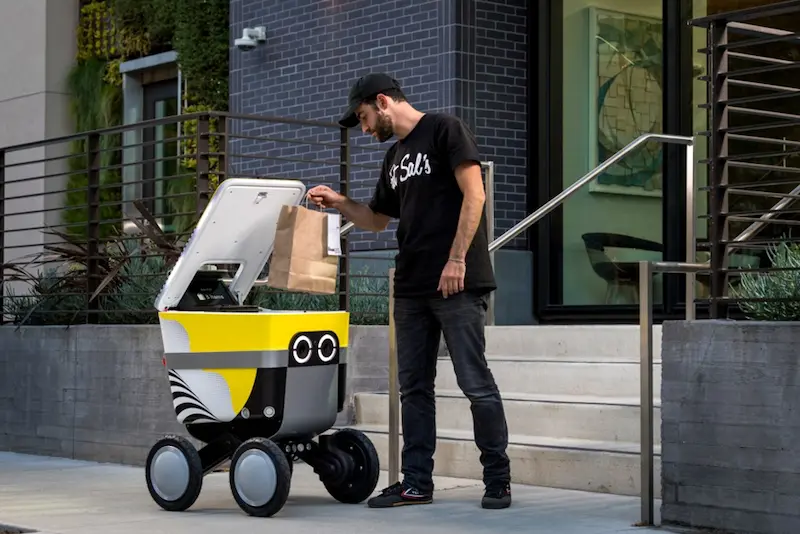 Img: Uber Eats Autonomous Delivery Robots
The company didn't say which restaurants would be part of the pilot or how many robots and AVs would be enlisted. But it has indicated that it fully intends to scale autonomous delivery, albeit at its own pace. "Integrating autonomous, electric delivery options onto our platform from Motional and Serve Robotics is just the beginning of how we will harness this promising technology," said a member.
Both pilots will launch on a small scale and will deliver food only from a few merchants including an organic cafe and juicery called Kreation. "We'll be able to learn from both of those pilots what customers actually want, what merchants actually want, and what makes sense for delivery as we start to integrate our platform with AV companies. The hope is that they're successful and that we learn over the coming months, and then figure out how to scale.
Uber's robot deliveries will account for a very, very small number of our deliveries in the near future, according to a member of the company," an Uber spokesperson said.
Uber will include the cost of food while charging customers for deliveries from both its partners. It's not entirely clear how Uber and Motional will swing that, though. In California, to be able to charge a fee for autonomous delivery, Motional would need to be granted a deployment permit from the Department of Motor Vehicles. So far, it only has a permit to test with a safety driver on board.
In answer to this, Uber said that "Motional and Uber expect that certain delivery fees which might normally be applicable may not be charged during this initial phase." Motional clarified further, saying during the pilot, there will not be fees specific to the delivery orchestrated by the Motional vehicle. Both Uber Eats and Motional will monitor the service closely, in particular studying demand and consumer interaction with the AV, with a view to further partnerships in other locations in the future.
There's no law restricting companies from charging for deliveries made by sidewalk robots, so Serve is in the clear. Uber said that if a customer decides to tip a Serve robot, they'll be reimbursed.
The safety operator will also drive the delivery vehicle manually when near customers' drop-off locations, as needed, according to an Uber spokesperson. "If there is a drop-off point that's close by, but not within Motional's current autonomous service area, the vehicle will be operated manually in order to deliver the order to the customer's house, rather than asking them to walk to meet the AV.
This is done to ensure a convenient and seamless experience for customers, and to maximize the number of opportunities to provide a touchless delivery experience to customers. As Motional's delivery autonomous service area expands, more trips will be completely fully autonomously," a Motional spokesperson said.
Customers residing within one of the two geofenced test zones will see an option at checkout to have their food delivered by an autonomous vehicle. If they opt in, the customer can track the food like they normally would, and when it arrives, they will get a notification to meet the AV outside.
Customers will get a passcode on their phone that will allow them to unlock the vehicle and grab the food, whether the meal is in one of Serve's cooler-like robots or the backseat of one of Motional's cars.
Img: Food Tracking on Uber App
"Robots could make deliveries more affordable in the long term. Trips that may be unappealing to pay for delivery today, like picking up one's dry cleaning, could become affordable in the future with autonomous deliveries. This is the first chapter of autonomous vehicles doing delivery on Uber. We see the potential in the future but have to start where we are today", said a member from the team.
Uber Eats has been a major source of revenue for the company, despite restaurants continuing to reopen at full capacity in the wake of pandemic shutdowns, its delivery revenue of $2.5 billion in the first three months of the year matched its revenue from its traditional rides business.
But Uber's adjusted EBITDA, a profitability metric, is worse for food delivery than ridehailing. Experimenting with self-driving delivery could be a way for Uber Eats to increase revenue while cutting the overhead of paying drivers as part of a wider rollout in the future. Also, robotic deliveries still seem like one of the shiniest baubles
Uber can hold out to bring in new customers and investors, which makes these new pilots make a lot more sense.
Autonomous delivery promises some intriguing benefits, including lower costs and a reduced impact on the environment. It can be a great tool for restaurants which have been looking for solutions to the high cost of food delivery. Also, it may help them deal with a shortage of workers and rising customer demands.
But although companies have long talked of using robots to deliver things to people, pilot programs so far have been small and typical of the autonomous delivery world that's long had more sizzle than substance amid technical and regulatory challenges.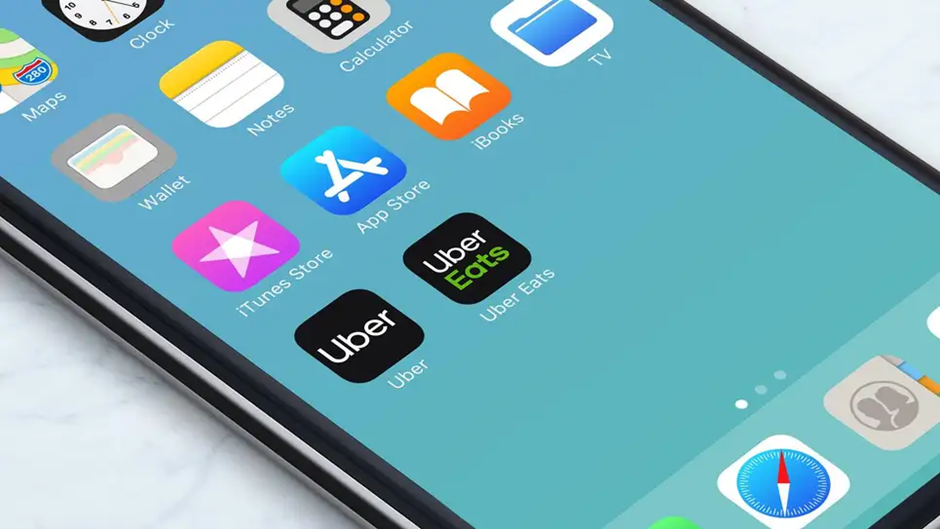 Img: Uber Eats App
Given the potential myriad of issues that driver-less vehicles could present, Uber's reliance on self-driving vehicles to deliver food could prove to be highly efficient or more trouble than it's worth.
Other Similar Works
Companies like Domino's, Kroger, FedEx and Amazon have all dabbled in robot delivery in recent years. Grubhub has tested delivery bots on college campuses in partnership with Yandex, and ghost kitchen companies including Reef, Kitchen United and C3 are also exploring the technology.
Dominos And Nuro
Dominos and Autonomous Delivery Company Nuro are working together for Autonomous Deliveries in Houston.
The Nuro R2 is a driverless delivery vehicle slinging pizzas from one delivery store. Customers who place an online order can opt to have the electric R2 deliver their pizza. Pizzas are loaded at the store and the electric R2 is sent. Text alerts and real time GPS Monitoring let customers keep track of the R2.
Nuro's R2 is the first completely autonomous, occupantless on-road delivery vehicle with a regulatory approval by the U.S. Department of Transportation.
Nuro says advanced cameras, sensors and radar allow the R2 to move safely through neighbourhoods.
The R2 is second generation autonomous vehicle from Nuro. In 2018, Nuro teamed up with Kroger for a pilot program using its first generation R1. It delivered groceries from one store in Scottsdale, Arizona.
"We're excited to continue innovating the delivery experience for Domino's customers by testing autonomous delivery with Nuro in Houston. There is still so much for our brand to learn about the autonomous delivery space. This program will allow us to better understand how customers respond to the deliveries, how they interact with the robot and how it affects store operations. The growing demand for great-tasting pizza creates the need for more deliveries, and we look forward to seeing how autonomous delivery can work along with Domino's existing delivery experts to better support the customers' needs," said a member from the Domino's team.
Scout - Amazon
Amazon founder Jeff Bezos said in a 60 Minutes segment in 2013 that drone delivery could be available in four or five years. Prime Air publicized its first delivery in 2016, but it has yet to launch a regular delivery service. Amazon still says it is aiming to one day make 30-minute drone deliveries to customers.
Amazon has a sidewalk robot delivery service of its own, called Scout. It is a 6 wheeled delivery robot used to deliver packages. Amazon Scout originally debuted on January 23 2019 with only six devices being used, delivering packages to Amazon customers in Snohomish County, Washington. Scout robots operated Monday through Friday, during daylight hours. In August 2019, the robots started delivering packages to customers Irvine, California on a test basis, with human monitors titled as "Amazon Scout Ambassador". The package is stored inside of the robot, and driven to the customer.
Amazon acquired the robotics company Dispatch to build the robot.
All Scout robots are fully electric as part of Amazon's movement towards net zero carbon emission by 2040. Amazon plans to use Scout in place of common delivery carriers. Integration of Scout adds to Amazon's use of automation in delivery infrastructure, as there are already robots in use at Amazon warehouses. It is also helping to transition the Prime program from two-day shipping to faster one-day shipping.
Amazon Scout has been developed to safely navigate around common neighborhood obstacles such as pets and pedestrians. Scout uses tech like sensors and machine learning to navigate streets, as GPS is not reliable or detailed enough. The risks of using Scout are small as well, in comparison to the risks associated with autonomous cars.
According to Amazon Vice President Sean Scott, Amazon is continuing its rollout of Scout in different locations around the US in order to "operate in varied neighborhoods with different climates". Amazon says it's delivered tens of thousands of packages in Snohomish County, Washington; Irvine, California; Atlanta, Georgia and Franklin, Tennessee. They're a tiny fraction of Amazon's total deliveries, which amount to billions of packages a year. Further Scout trials are being conducted at locations like college campuses and office complexes. Delivery with Scout around the US also continued through the COVID-19 pandemic to minimize human-to-human contact.
In several ways, federal and local regulations are limiting further investment, development and testing of Scout. For example, some regulations "limit the use of fully automated devices in public space", which is why an accompanying Amazon employee has been necessary. There have also been concerns about robots like Scout replacing human workers, and concerns on how residents will react to camera-bearing robots in their neighborhoods.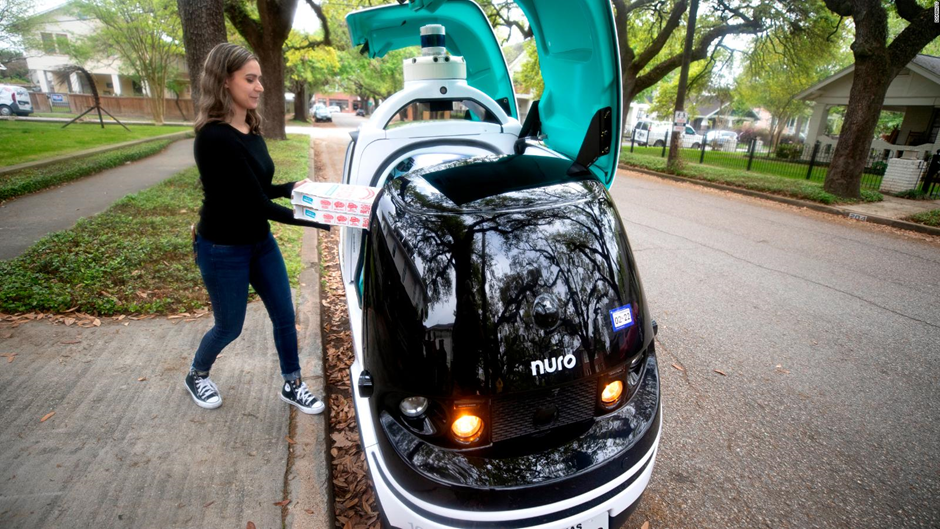 Img: Amazon is testing Autonomous Deliveries using Robots
Starship
Starship, a sidewalk robot company, says it is making 10,000 deliveries a day in 40 locations worldwide, including 25 US college campuses. Its deliveries, which cost an average of $1.99, tripled in 2021, company spokesperson said.
Starship claims to be profitable in some of its locations, but didn't say where.
George Mason University, one location that Starship has operated at since 2019, says that about 60 robots deliver between 700 to 1,000 deliveries per day from locations like Panera Bread, Starbucks and Blaze Pizza. Deliveries cost $2.49, plus a 10% service fee, according to university spokesperson.
Community feedback has been 95% positive.
Wing - Alphabet
One of the largest players in robot delivery is Google's parent company Alphabet. Alphabet's drone delivery company, Wing, says it made 53,000 commercial deliveries in the first three months of this year, a 355% increase from the same period in 2021.
Wing operates in Logan and Canberra Australia; Christiansburg, Virginia; Dallas-Fort Worth, Texas and Helsinki, Finland.
Wing declined to say if it's profitable. A part of Alphabet's financial statements that includes Wing, reported losing $1.16 billion in the first three months of this year. Wing spokesperson said that regulations are holding back its technology in the US, and says it's had more scale and impact in Australia because of the different regulatory environment.
The company, like many others, declined to say when it expects robot deliveries to be mainstream in the United States.
Enjoyed gaining such amazing insights, keep in touch with us for more!