Labellerr: A self-hosted & secured data annotation platform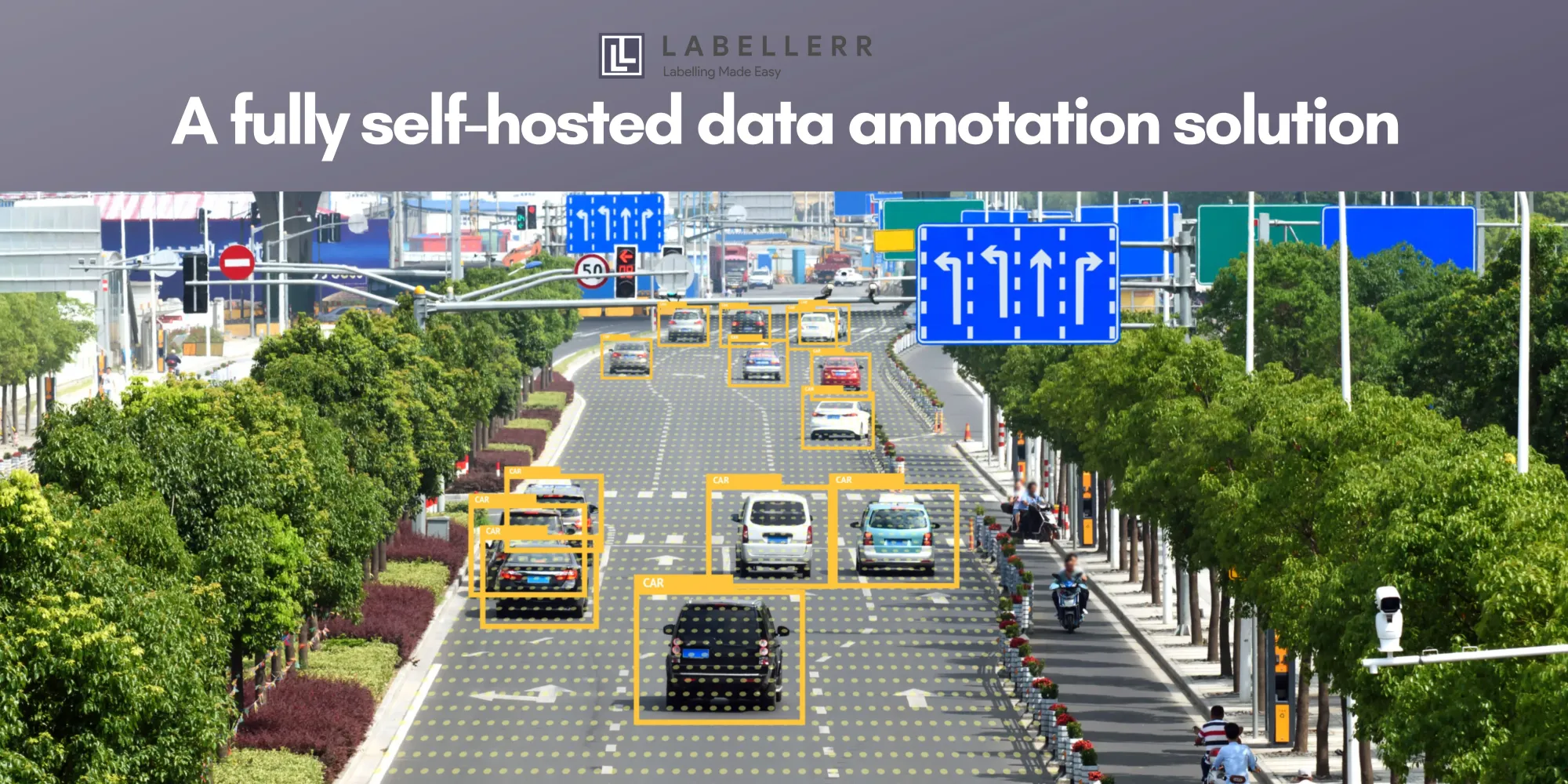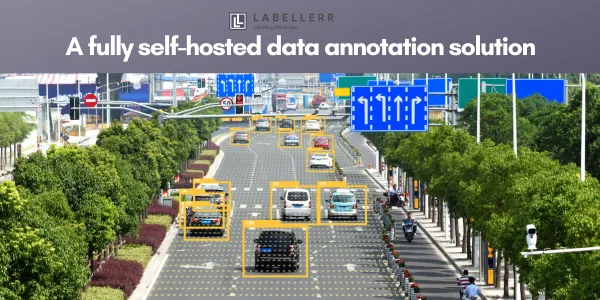 In the world of data science, efficient and accurate labeling of data is crucial to ensuring successful Machine Learning applications. While an array of online tools exist to make data labeling easier, they often involve managing multiple vendor relationships, hosting external datasets on an alien server environment with limited accessibilities, or sacrificing control over security and privacy by relying on cloud-based annotation solutions - all without considering the cost-effectiveness of these services.
Labellerr offers organizations a simpler, more secure solution: A fully self-hosted platform that enables user conservation while providing customized data labeling and annotation capabilities you need to train your models! What is a fully self-hosted data annotation solution? Let's see!
About fully self-hosted data annotation solution
A fully self-hosted data annotation platform is a software program that enables users to label, categorize, or otherwise annotate data. It is made to be set up and run on the user's existing servers or infrastructure. This implies that the user is in charge of maintaining and managing the platform themselves, as well as having full control over the software and hardware on which the platform is based. Organizations that need to be able to configure the platform to match their unique requirements fully or that have high security or data protection requirements frequently employ fully self-hosted data annotation solutions.
Why you should consider a fully self-hosted data annotation solution?
A company might decide to adopt a fully self-hosted data annotation solution for a number of reasons:
Data security and privacy: By operating the platform internally, businesses can ensure that their data stays within the company's infrastructure and isn't sent to or kept on servers owned or operated by third parties. The importance of this must be considered for businesses that deal with private or sensitive data.
Customization: A fully self-hosted data annotation platform can be tailored to fit the company's needs, whether that means integrating it with other systems and procedures or changing the user interface or workflow as necessary.
Control: By hosting the platform themselves, businesses can ensure that the hardware and software are configured and maintained to match their requirements. This gives them total control over the software and hardware on which the platform runs.
Cost: Based on the platform, a totally self-hosted solution can be more affordable over time than a cloud-based one, which normally charges a membership fee.
Performance: When compared to a cloud-based solution, a fully self-hosted data annotation platform may perform better since it can be tailored to the organization's unique hardware and network infrastructure.
Labellerr: The best fully self-hosted data annotation solution.
Are you in search of a comprehensive, self-hosted data annotation solution that is reliable and powerful? Look no further than Labellerr – a leading label annotation platform designed to provide organizations with the ability to train their AI models accurately. With an intuitive user interface, innovative methods of shared asset management, and superior performance capabilities, Labellerr provides the all-in-one solution for your data labeling needs.
About us
Labellerr is a data automation tool that helps data science teams to simplify the manual mechanisms involved in the AI-ML product lifecycle. We are highly skilled at providing training data for a variety of use cases with various domain authorities.
Labellerr provides a wholly on-premise solution for businesses operating without an internet connection. The software can be installed on your own hardware or in your cloud infrastructure.
With Labellerr, you can upload data using the UI, CLI, or Python SDK to its encrypted storage. Versioning, model deployment, and model training are all possible with the uploaded data. Through Labellerr's secured storage, only the data or models made therein are the sole property of their inventor.
Whether preparing images for computer vision research or annotating video datasets for autonomous vehicle training, our fully customizable software helps you quickly deliver results without compromising accuracy or speed. Here is why you should consider us!
Get high-quality data quality assurance
The success of your artificial intelligence and machine learning models depends on the quality of the data. Additionally, tools for data annotation can help with validation and quality control (QC). You must ensure that the tool you are looking for includes quality control as a compulsory part of the data annotation procedure.
We use privacy and data protection best practices with enhanced authentication. We have Identity and access management (IAM) services from unaffiliated cloud providers. We do not keep the client's original data within its own storage while imposing a policy for deleting sensitive metadata. We support PII that can be used to facilitate pseudonymization, redaction, and masking.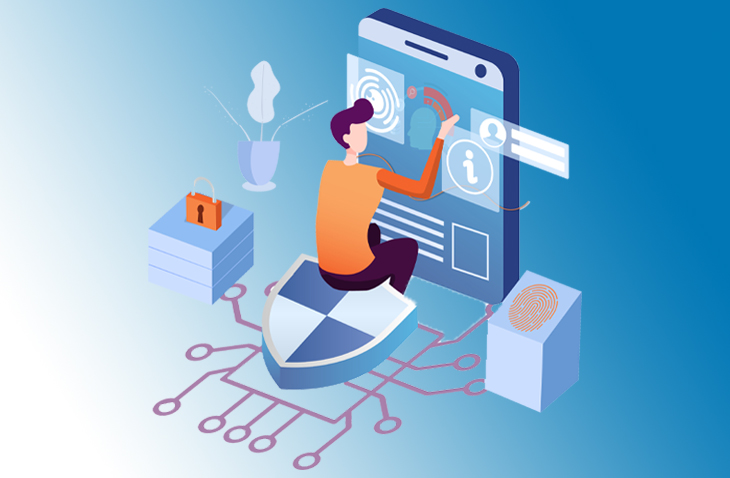 Affordable Pricing
The pricing of a tool is always a concern. It is seen that most programmers working in small/medium-sized teams look for free tools, but free tools can never provide a list of benefits, and your work will get stuck.
We have a list of pricing structures that best meet your needs. There is no need for an extended contract. Use freely for modest proof-of-concept or sizable, long-term projects.
Human workforce capability
Although data labeling is a crucial step in the process of creating AI/ML models, at its core, it is a human activity because decisions are being made behind each row of labeled data.
Labellerr has access to the most skilled annotation crew in the world with years of experience. We have the presence of subject matter experts from diverse businesses We offer the best results with less prejudice because of our internationally representative workforce across all continents. We have More than 5000 skilled full-time annotators working in a secure facility under our supervision. Our platform help to optimize the human-in-the-loop process by bringing automation at several stages.
Annotators and reviewers can reduce manual task by up to 70%, which ultimately help reduce operational cost.
Ease of Use
It's essential to understand that you can integrate your data labeling platform painlessly and without obstructing your bigger production pipeline because it will become a crucial component.
We allow all types of data support for computer vision types of AI and annotation. We are one-stop shopping for all of your tools and the person in the loop needs. You will get a highly user-friendly UI with work templates for annotations and round-the-clock assistance. We have Strong API connections to your current MLOps infrastructure.
Automated Image Segmentation
With Labellerr, you can access various annotating methods that help you deliver the best results. By doing so, you'll be able to identify anything you missed and mark it appropriately, maintaining high quality as you grow.
To simplify the processes and make your model training journey, Labellerr has developed a fantastic feature of an automatic image segmentation annotation. In this, you do not need to spend your crucial hours sitting in doing the hectic segmentation process. All you have to do is just create a bounding box around the object, and our tool will do the image segmentation process for your images. Isn't it a fantastic feature? Yes, we know that it is.
Automated Object detection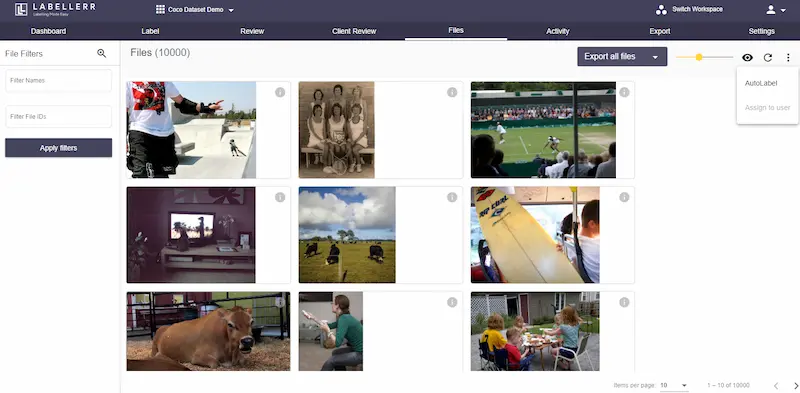 Our automated object detection feature allows you to work on exploratory data analysis. We have made it easier for you to detect datasets that are already labeled with classification or bounding boxes. We know no one heard you, but we did! So, if you are interested in making your model performance much more effective, then waiting a day to do slow-processing data analysis or labeling is just a waste. Go ahead and automate your processes with labellerr.  
If you are looking for a fully self-hosted data annotation solution, check out labellerr.